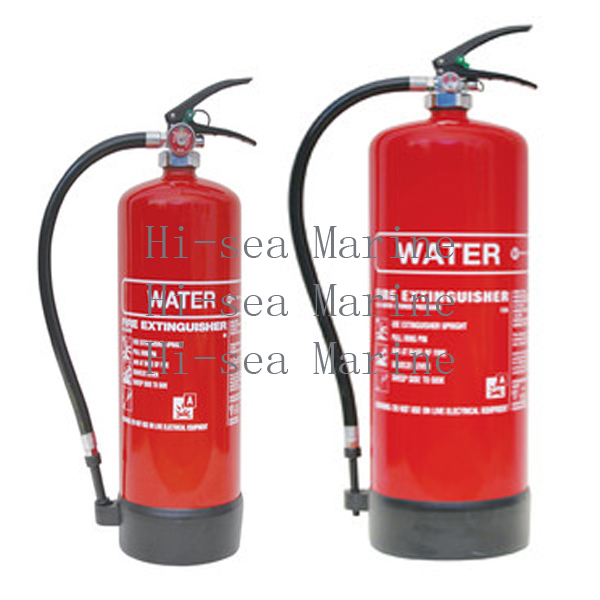 6 ltr, 9 ltr Water Fire Extinguishers
Quick Overview:
This type of extinguisher does not contain harmful chemicals but has a low fire fighting rating.
The water fire extinguisher is the basic standard for most situations. They are also cheap to refill and simple to service.
Suitable for shops, offices, schools, theatres, warehouses or anywhere with paper, cardboard, curtains, cloth, wood, carpet.
Types of fire include Class A (wood, paper, cloth, etc) but DO NOT use near live electrical equipment.
Carry a 5 year manufacturer's warranty.
Enjoy good reputation
in European, America, Mid East and Asia.
Key Features:
● BS EN3 approved, CE Marked, ISO9001:2008 certification
● Easy to use - squeeze grip to operate with spray nozzle
● Internal polyethylene lining
● External epoxy paint adds extra protection to withstand extreme temperatures, with reinforced protective plastic base
● Safety relief valve to ensure reliability and optimize efficiency
● Complete with bracket for easy wall mounting
● Fully re-chargeable and serviceable
Technical Details:
| | | |
| --- | --- | --- |
| Type | 6 ltr Water | 9 ltr Water |
| Capacity (ltr) | 6 | 9 |
| Fire rating | 13A | 21A |
| Height (mm) | 540 | 610 |
| Cylinder diameter (mm) | 162 | 182 |
| Overall width (mm) | 262 | 305 |
| Filled weight (kg) | 9.6 | 14.2 |
| Range of throw (m) | 5.5 | >8 |
| Duration of discharge (secs) | 16 | 22 |
| Working pressure (at 20° C) | 15 bar | 15 bar |
| Temperature range (° C) | +5 to +60 | +5 to +60 |
Packaging & Delivery:
Packaging Detail: ONE PC IN ONE CARTON
Delivery Time: 15-25 DAYS
Payment:
T/T, L/C