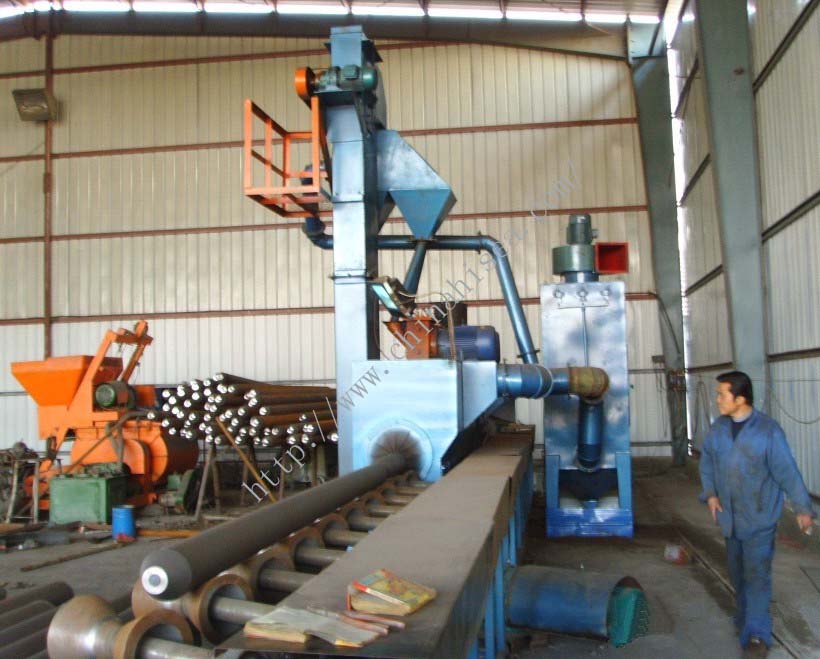 Steel Pipe Sand Blasting Machine
steel pipe:

This kind of sand blasting machine is mainly used to clean the outer surface of steel pipes, middle and small size of steel vessels. The jobs will make rotation on the delivery rollers and walk forward at the same time.
The working speed can be adjustable according to the requirements of surface quality. This machine is widely used in the industry of high strength bolt, steel pipes, gas cylinder, LPG bottle and so on.
Main Parameters
| | | | |
| --- | --- | --- | --- |
| Model | GP300 | GP450 | GP600 |
| Diameter of Blasting Pipe | 300mm | 450mm | 600mm |
| Pipe Length | 1200mm | 1200mm | 1200mm |
| Woring Speed | 1-3m/min | 1-3m/min | 1-3m/min |
| Impeller Head | 11KW*2 | 11KW*2 | 15KW*2 |
| Blasting Volume | 200KG/min*2 | 200KG/min*2 | 200KG/min*2 |
| Delivery Volume | 24t/h | 36t/h | 45t/h |
| Lifting Volume | 24t/h | 36t/h | 45t/h |
| Separating Volume | 24t/h | 36t/h | 45t/h |
| Air Volume | 6000cum/h | 8000cum/h | 12000cum/h |
| Total Power | 36.7KW | 61.5KW | 66KW |