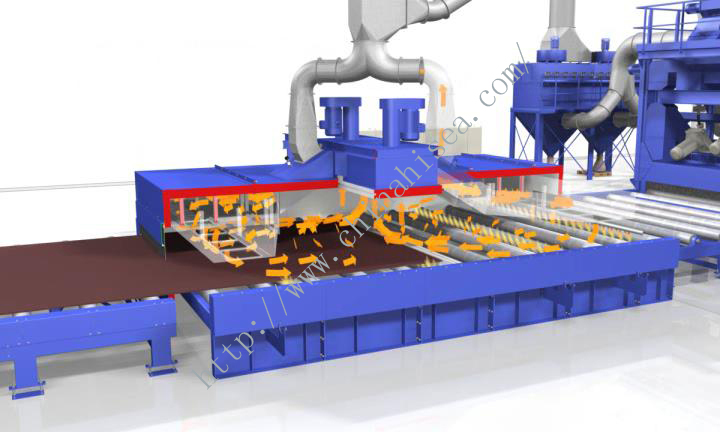 1.2M Steel Plate Pretreatment System
Steel Plate Pretreatment System:
The tunnel type steel plate pretreatment system is designed as complete surface preparation for steel plates, beams, profiles, flat bars, and tubes. The plate ranging from 1 meter to 5 meter wide. This is a continuous process with material loading, take raw steel and place it on the input conveyor and then take blasted, cleaned, automatic painted, dry plate and take off at the other end.
A complete system include: Roller conveyors, Blasting chamber, Abrasives recovery system, Abrasives separator & Storage hopper, Abrasives cleaning system, Dust collector, Automatic Spray paint booth and Drying oven.
The blasting part adopts centrifugal high-efficient blast wheel, mechanical and continuous abrasive handling and reclamation. The cleaning part adopts high quality rotary brush and high pressure blower blow off. Automatic spray painting system adopts high pressure airless spray methods. The preheating and drying part adopt various heating methods, such as electric and gas etc. The complete automatic system is controlled by PLC with full interlock safety system provided.
Assembly line overall performance
Description

Unit

Details

Steel Plate

Size

Width

m

≤1200m

Length

m

6~12m

Thickness

mm

6~60mm

Structural Steel Size

mm

18000×200×200

Roller Delivery Speed

m/min

1~5

Work Speed

Degree of Steel Plate Corrosion (A)

m/min

3.6

Degree of Steel Plate Corrosion (B)

3

Degree of Structural Steel Corrosion (A)

2.4

Degree of Structural Steel Corrosion (B)

2

Derusting Quality Grade

BSa2.5(GB8923-88 or ISO8501-1, 1988)

Surface Roughness

μ

12.5~50

Film Thickness

μ

15~25

Material and Intensity Range of Workpieces

Marine A, B, and D steel;AH32, AH36, DH32, DH36

Supply

Power

kw

≤250kw

Compressor Air

m3/min

6~7

Pressure of Compressor Air

MPa

0.4~0.6

Work Capacity per Year

t

48000
General Working Process