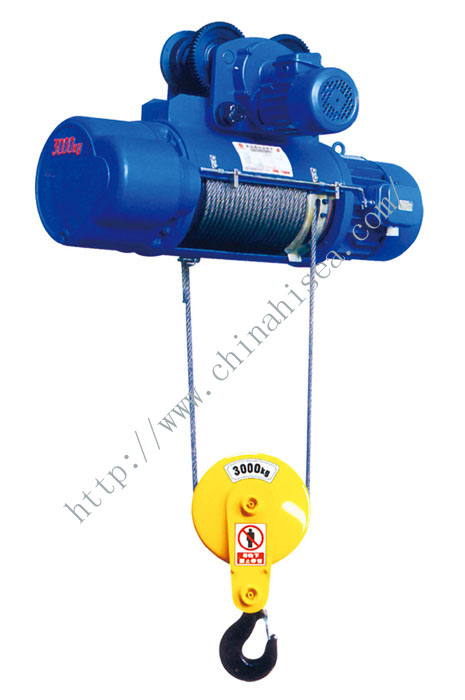 CD1.MD1 Type Wire Rope Electric Hoist
CD1.MD1 Type Wire Rope Electric Hoist
Product Name:
CD1.MD1 Type Wire Rope Electric Hoist
Material:
Steel
Spec:
1. Reducer: Third-class dead axel helical gear transmission structure is adopted, gear and gear axel are made of heat treated alloy steel, case and case cover with precise assembly and good seal are made of quaility cast iron. The reducer is independant, it's easy to load unload it.
2. Control Box: It has device with up and down stroke protection of break off limiter and can cut offmain circuit in an emergency, which ensures safe operation of electric block. Electric element are of long service life and operational safety.
3. Steel wire rope: It uses GB1102-74(6*37+1) hoist steel wire rope shich is durabel in use.
4. Conical Motor: The hoist motor uses concial rotors of relatively stronger starting torque to brake asynchronous motor and dose not grade insulation and its grade of protection is IP44/IP55.
5.Button switch: It's hand-operated, easy to handle, and has two models of cord operation and cordless remote control.
Technical Drawing For CD1.MD1 Type Wire Rope Electric Hoist: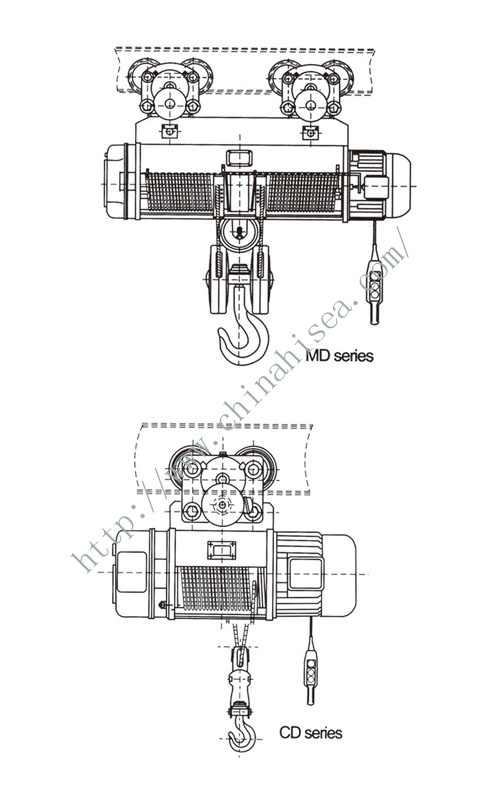 Parameters For CD1.MD1 Type Wire Rope Electric Hoist:
Model
Capacity(t)
Norm Working Level
Hoisting Height(mm)
Hoisting speed(m/min)
Operating speed(suspended type) min
Multiplying power of chain wheel
Type and power of hoisting electric motor(kw)
Type and power of operating electric motor(suspended type)
Level of protection
Type of I-steel track
Minimum turning radius(m)
Net weigt(kg)
Power
CD1
MD1




(CD1 YDM1Y)
M3
6
8
8/0.8
20
2/1
ZD21-4
0.8
ZDS1 0.8/0.2
0.8/0.2
ZDY11-4
0.2
IP44
IP54
16a~28b
1.5
135
3-380V/50Hz
9
1.5
140
12
1.5
155
18
1.8
175
24
2.5
185
30
3.2
195
0.9
M3
6
8
8/0.8
20
2/1
ZD22-4
1.5
ZDS1 1.5/0.2
1.5/0.2
ZDY11-4
0.2
IP44
IP54
20a~28c
1.8
180
9
1.8
190
12
2
205
18
2.3
220
24
2.5
235
30
3.2
255
1
M3
6
8
8/0.8
20
2/1
ZD22-4
1.5
ZDS1 1.5/0.2
1.5/0.2
ZDY11-4
0.2
IP44
IP54
20a~28c
1.8
180
9
1.8
190
12
2
205
18
2.3
220
24
2.5
235
30
3.2
255
2
M3
6
8
8/0.8
20
2/1
ZD22-4
3
ZDS1 1.3/0.4
1.3/0.4
ZDY12-4
0.4
IP44
IP54
20a~28c
2.2
230
9
2.2
240
12
2.5
298
18
2.8
320
24
4
334
30
4
356
3
M3
6
8
8/0.8
20
2/1
ZD22-4
4.5
ZDS1 4.5/0.4
4.5/0.4
ZDY12-4
0.4
IP44
IP54
25a~45c
2.5
293
9
2.5
310
12
2.8
346
18
2.8
400
24
3
435
30
4
496
5
M3
6
8
8/0.8
20
2/1
ZD41-4
7.5
ZDS1 7.5/0.8
7.5/0.8
ZDY21-4
0.8
IP44
IP54
25a~63c
2.8
474
9
2.8
495
12
3
546
18
3.2
622
24
4
670
30
5
800
10
M3
9
7
7/0.7
20
4/2
ZD51-4
13
ZDS1 13/1.5
1.3/1.5
ZDY21-4
2*0.8
IP44
IP54
40a~63c
3
980
12
3.5
1050
18
4
1190
24
5
1330
30
6
1470
16
M3
9
3.5
3.5/0.35
20
4/1
ZD51-4
13
ZDS1 13/1.5
1.3/1.5
ZDY21-4
2*0.8
IP44
IP54
45a~63c
4
1214
12
6
1294
18
7
1454
24
8
1614
20
M3
8
3.5
3.5/0.35
20
4/1
ZD51-4
13
ZDS1 13/1.5
1.3/1.5
ZDY21-4
2*0.8
IP44
IP54
50a~63c
4
1250
10
6
1340
15
7
1700
20
8
1950
24
9