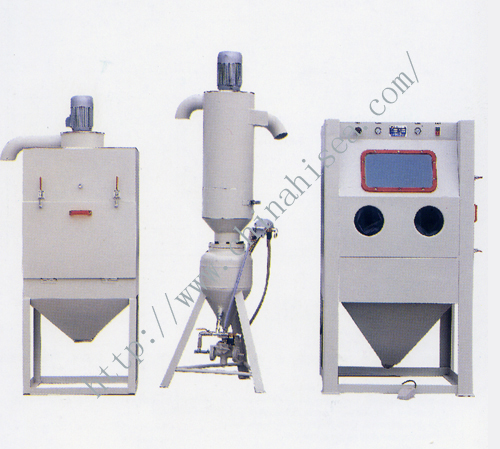 Sand Blast Machine
★Main Feature of Sand Blast Machine
A. Lower operating cost, energy saving
B. Rectangle recycle pipe to forbid banked-up.
C. No transmission to recycle sand, lower failure, maintenance-free.
D. Honeycomb floor, save base cost.
E. Each control system can be interlocked, greatly improving the speed of repair and maintenance.
F. Standard modules, and easy maintenance or replacement.
G. The wind come from the top of room, the bottom and side can inhale, so the dust downflow. Good visibility for work, and good for workers health.
H. All the sand can be recycled instant, no leaving, no need clean.
I. The body room use laminboard, looks good. Pavtrac skin on each side, good effect of soundproof.
J. Modern techniques, dust emissions meet environmental requirements, no environmental contamination.
The Basic Requirements:
1The structure of workpiece: Casting parts, Structural parts
2 The material of workpiece: Cast iron, Cast steel, Stainless Steel
3 The workpiece façade: oil is forbid
Surface Treatment Technical of Workpiece:
1 Cleaning part: the entire surface
2 Surface Quality: Sa2.5
3 Cleaning speed≥20M2 /hour (single gun, the nozzle size is φ10mm)
4 Sand Size G30-40 (steel shot, quartz sand, glass bead, etc.)
Working Principle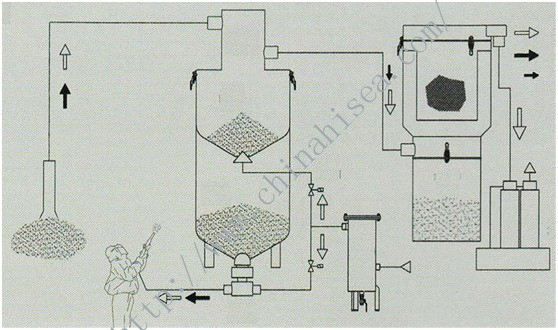 Application