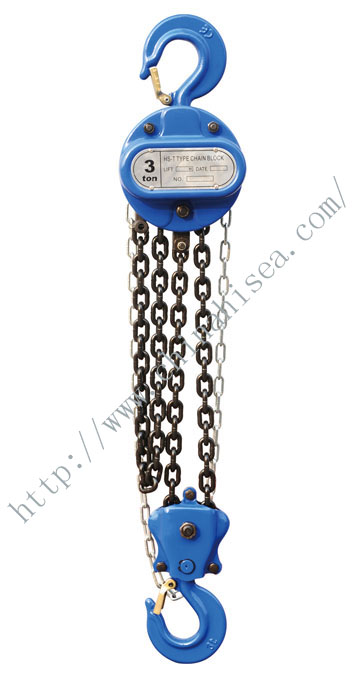 HS-T Type Chain Hoist
HS-T Type Chain Hoist
Product Name:
HS-T Type Chain Hoist
Material:
Steel
Spec:
Features:
1. Compact size, light weight and durable life.
2. High efficiency and small pulling effort at full load.
3. Reliable, safe in operation and low maintenance.
4. Very low headroon allows optimal use of available space.
5. Bearing mechanism to increase mechanical efficiency.
Application:
HS-T Type Chain Hoist is a widely used manual hoisting machinary which is easy to use and carry. It can be used in factory, mine, agriculture, electricity, construction site, wharf and dock. And it can also be used in installing of machinery, lifting, loading and unloading in the warehouse, especially suitable to be used in the open air and the place without power source.
Technical Drawing For HS-T Type Chain Hoist: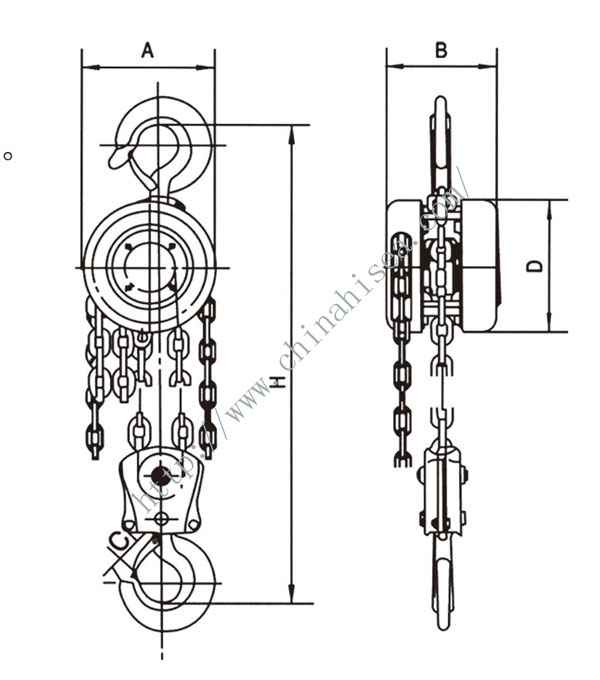 Parameters For HS-T Type Chain Hoist:
Model
Capacity(t)
Standard lift(m)
Running test load(t)
No. of falls of load chain
Load chain diameter(mm)
Dimensions(mm)
Net weight
(kg)
A
B
C
D
HS-T 0.5T
0.5
2.5
0.75
1
6
120
108
24
120
8
HS-T 1T
1.0
2.5
1.5
1
6
142
122
28
142
10
HS-T 1.5T
1.5
2.5
2.25
1
8
178
139
34
178
16
HS-T 2T
2.0
2.5
3
2
6
142
122
34
142
14
HS-T 3T
3.0
3
4.5
2
8
178
139
38
178
24
HS-T 5T
5.0
3
7.5
2
10
210
162
48
210
36
HS-T 8T
8.0
3
10
3
10
356
162
64
210
58
HS-T 10T
10.0
3
15
4
10
358
162
64
210
68
HS-T 16T
16.0
3
20
6
10
400
196
69
210
112
HS-T 20T
20.0
3
30
8
10
580
189
82
210
155